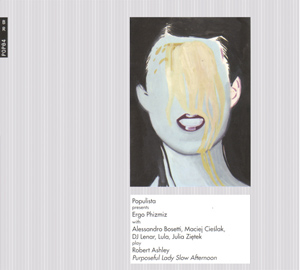 Purposeful Lady Slow Afternoon
(Bôłt - BRPOP04) CD $14.00
Voices by Ergo Phizmiz and Lula, piano by Phizmiz, guitar by Maciej Cieślak, violin by Julia Ziętek, laptop by Alessandro Bosetti, turntable by DJ Lenar. Volume four in the label's Populista series.

String Quartet Describing The Motions Of Large Real Bodies
(Alga Marghen) Used CD $8.00
Originally composed in 1972 — for an opera based on the text of "In Sara, Mencken, Christ and Beethoven There Were Men and Women" — when significant changes in electronic instrumentation were just beginning, and recorded at the Center for Contemporary Music, Oakland, California, that same year, Ashley's twenty-minute piece calls for an electronic orchestra of forty-two sound-producing modules, where the string quartet makes intentional but unpremeditated streams and pulses like pitched clicks, which go directly to a set of four loudspeakers, but are also delayed electronically and sent to a series networks activated when original sounds and delayed sound coincide. One version of "How Can I Tell the Difference?" uses electronic orchestra sounds and other collages ingredients, such as reverberations and motorcycles sounds inside San Francisco's underground labyrinth of concrete tunnels constructed by the military in the 1930s. On a second version from 1973, a solo string player opens and closes the sound gates to electronic reverberations and prerecorded sounds running continuously with the performance. With eight-page booklet of scores and liner notes by Ashley.