Hair Strings and Magnets
(Chocolate Monk - choc.537) CDR $7.00 (Out-of-stock)
COMING SOON. A continuing viola-shaped entry under the Core of the Coalman category for the bureau of international mystery recordings of Chocolate Monks. Five pieces performed on solo viola with electronic things, and recorded in empty, disused, and leaking churches, warehouse spaces, and a dance studio, while Boehringer lived in Huddersfield from 2014 to 2020. Signals bowed, intercepted, and fed-back upon themselves until they become their own memories. Scores for tracks two and five are also available for anyone who wants to take a stab. Edition of 60
Perpetual Ear Brew
(Chocolate Monk - choc.536) Cassette $7.00 (Out-of-stock)
COMING SOON. Almost 60 minutes of lo-fidelity tape warble and crug. "A box of cracked tapes are easy to shape" uses some equally limited tape releases as source material, while the flip's "A bowl full of crystal cabbage" contains recent recordings with added mystery twang. Numbered edition of 25

Temple
(Chocolate Monk - choc.535) CDR $7.00 (Out-of-stock)
COMING SOON. After a much needed drop off the radar when she got with a UFO cult and huffed it up to preserve her mind from the outer-mush and swerve of the sanitorium, Keffer reemerges with a gentle, soothing throb of spew-age music. Recorded deep in Toad Holler, Chesterhill, Ohio. Edition of 60

Advanced Auto Body
(Chocolate Monk - choc.534) Magazine $10.75 (Out-of-stock)
COMING SOON. LAFMS legend cracks out the art supplies in this 40-page, full-color, perfect-bound pocket book depicting his hybrid semi-bionic personal mobility units. Although none are rejects, the plausibility of some models needs time to ripen. Then they will drive into the future without brakes. Inclues stickers. Edition of 75
KAREN CONSTANCE / DYLAN NYOUKIS
Therapeutic Effects
(Chocolate Monk - choc.533) Magazine + CDR $13.25 (Out-of-stock)
COMING SOON. Solo works and collaborations cooked up in both the audio and visual realms. The full-color stapled A5 booklet features paintings, collages and life pointers. The accompanying disc comes in a one-off hand-collaged cover and gives you a solo track from each Wino Lodge dweller and a spun-out hand hold. Remain prescribed to the outer edge. Includes stickers, badge. Numbered edition of 50

Gotou
(Inu Wan Wan) LP $16.00
Named after the Taiwanese restaurant the trio frequents in Sapporo, capital of Japan's northern island Hokkaido, Gotou is made up of Otaco Gotou, Nanae Bndy Gotou, and Chika Gotou, some of the most exciting artists from the city's experimental music scene (Cup & Saucers, Aoi Swimming). They use the guitar-bass-drums format to create goth post-punk in homage to early 1980s groups such as Mania D and Malaria!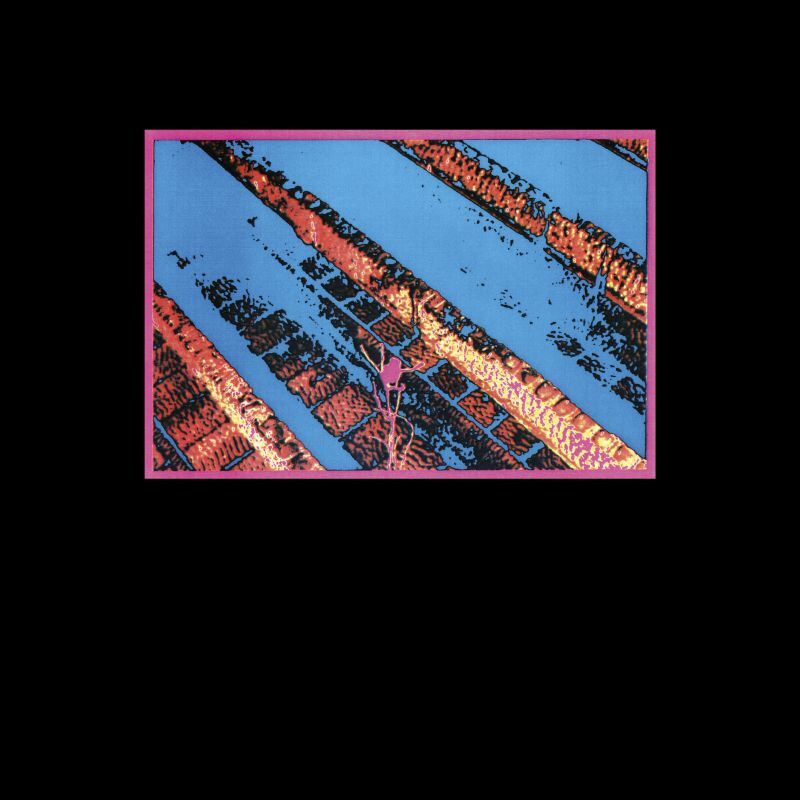 VOGELSCHEISS UND SEINE VERRÜCKTEN KRÖTEN
Vogelscheiß Und Seine Verrückten Kröten
(Art Into Life) CD $22.00
(Art Into Life) LP $37.00
This barely premeditated collaboration from the late 1980s by Strength Thru Joy's John Hubbard and Christoph Heeman and Andreas Martin of HNAS would make a perfect soundtrack to a paranormal thriller in which the living aren't exactly haunted by ghosts and apparitions and poltergeists so much as fucked with. Not even pranked, just pointlessly confused for the poker-faced amusement of the quasi-dead. You know how it is in eternity — lotta time to kill. Records skip and wobble off center. Self-tuning radios pogo in and out frame. Violin, banjo and recorder slip across corrupted harmonic grids. A piano piece, oh my god, a piano piece. Plus: toads. You're welcome. LP includes download code and insert. Edition of 300. Each CD comes in a handcrafted paper jacket, differing in color and texture. Edition 200

Magnet Hill
(I Dischi Del Barone) 7-inch $10.00
Rather minimal and more based on guitar than previous efforts by Jesse Dewlow, such that "a murky sub-underground feel resembling South Island NZ pop played inside an armored car" line might be on point, but these two downer gems are rooted elsewhere. Plus, hey hey, locked grooves. With insert. Edition of 200
Alien Native
(Siltbreeze - SB87) LP $15.00
Originally self-released as a CDR in 2004, this 2007 reissue burrows deep in the mystery and menace of the nascent gnarl of experimental art rock. A great swab of past-sounding electro-junkoid rumble absorbed into the mind and matter of present day pre-analog excavators. Silkscreened jacket.

Backlit Colander With Holes Shaped Like Numbers / Bok Choy Festival
(I Dischi Del Barone - IDDB017) 7-inch $10.00
Two six-minute montages of reversed mitosis episodes, in which scaly pods, ruptured eggs, and clumps of partially digested hair smush through one another and glom together in unstable strains of Glass-spanktified dad-noise. "Backlit Colander With Holes Shaped Like Numbers" crawls with bacteria from munched electronics, murmurs of a chimney-entrapped Frampton (plus camel, but that should go without saying), tape yoont teetering on the lip of a magnetic abyss, and piercing splats from tiny automatic paintball guns. "High" and "lonesome" are the operative descriptors of "Bok Choy Festival": Barbara Manning's guitar loops backfire and self-annihilate in private spritz-overdose orgies; avian-constructed effigies of Annie Hayworth curdle; narration on the topic of body dysmorphia is provided courtesy of thrift store cassettes and a Sister Rosetta Thorpe quotation. Cover artwork by Karen Constance. With insert. Edition of 200.

Tricephalic Head
(Siltbreeze) LP $16.00
Following a self-titled cassette (Psychic Mule, 2013), People Skills serve up a first LP of deceptively relaxed songs. As per usual, deductions are to be made on the consciousness of the character; the important thing is that in the ensuing spatial vagueness, Jesse Dewlow really comes into his own. The influence of Graham Lambkin has become so staggeringly panoramic over the past decade it seems to demand participation and here it is, inscribed by the chance blurts of Die Spielverderber and the slow attitude of The University Punx, and played from the loner-folk-side-in — that is, for feeling felt. And the laziness is projective; always managing to sound looser and more vivid than it seemed a couple of seconds before, shifting from lyrical to terse by way of The Rebel. And if that doesn't get you, consider the mortal words of John Berryman: "Well hell / I'm not writing an autobiography-in-verse." As a first-person hallucination recorded memory, this plays somewhere between full-blown Dewlow narrative and snapshot. Regardless, we're blazing into a new era and this one will go perfect in one of those new rabbit-computer cafés. Include free download card

The Landlord
(Siltbreeze) LP $16.00
This expat duo from France have been murking the waters of the cassette underground for the latter part of a decade. With its peaks and percolations like a sci-fi absinthe of future past, their debut vinyl release is most succinctly described as a cross between the Shadow Ring and Cabaret Voltaire. Edition of 250.

Pier
(SDZ) 7-inch $12.00
CIA Debutante has been cultivating its brain fog for years, stashing away in places that consistently experience connectivity issues. Grey humor is a basis for life and the therapy of homemade electronic chaos, the nature of which is yet to be determined, as a reflective blanket. In this techno-cocoon like no other woven by Paul Bonnet (Disposition Matrix), Nathan Roche (Le Villejuif Underground) develops thoughts-counter-brains, his lobes like pet iguanas surfing on the essential vibrations of the useless. The images are there, those of countless extremophilic organisms, fractured cosmic debris, the ocean floor cracking, the international station stalling and a general instability that spreads tirelessly like the devil's worm in the oldest gold mines. Perpetually reachable on a number that doesn't exist yet, the duo is once again working wonders with stellar musical foam. Handmade sleeve. Edition of 200

Dust
(Siltbreeze) LP $16.00
One the second vinyl outing from Nathan Roche and Paul Bonnet for Siltbreeze, vocal recitation and percolating electronics are honed to perfection, moving them beyond whatever references were made in the past, now comparable it to that giant Zardoz head flying around the French countryside, drolly enunciating dystopian affirmations, predicting the future, rewriting the past, ordering off-menu, spitting a rain of Aperol, Pernod and Gitanes to their brutish followers below. Basically free drinks and smokes. What's not to follow? You can Cabaret Voltaire this or Shadow Ring that all you want, but Dust puts CIA Debutante in the catbird seat.