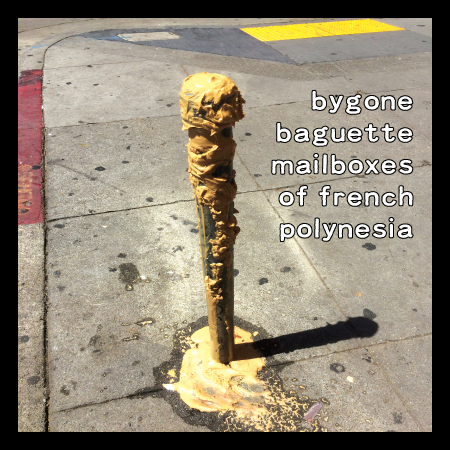 Bygone Baguette Mailboxes Of French Polynesia
(Butte County Free Music Society - BUFMS88) 3-inch CDR $4.00
A single 18-minute track of synth yarng and woon, electronics, and messed up turntablism. More pleasant than watching a puppy try to hump a seahorse's face. Edition of 25

Spatters Of A Royal Sperm
(Hanson - HN272) LP $10.00
Four tracks of "tape loops of dollar-bin garbage," says Aaron Dilloway, "reworked into disorienting alien rock music with freak-pop hooks" on the A-Side, originally intended to be released as a seven-inch back in 1992, out of the vaults for the first time and into your defective ventricle in 3-2-1. On the flipside, Tom Smith's previously unreleased dub experiments from 1977 to 1980. Silkscreened foldover cover. Edition of 250.

Timara
(Hanson - HNTIM01) LP $10.00
Electroacoustic music by current and recent students and faculty of Oberlin's Technology In Music And Related Arts school — Lyn Goeringer, Mitchell Herrmann, Sarah Snider, Evan Zierk, Matt Omahan, Paulus Van Horne, Charlie Abbott, Tom Lopez, and Stephen Sloan.

SUSAN ALCORN / CHRIS CORSANO / BILL NACE
Live at Rotunda
(Open Mouth - OM59) LP $22.50
Susan Alcorn on pedal steel. Drummer Chris Corsano. Guitarist Bill Nace. Cover silkscreened by Alan Sherry. Number six in Open Mouth's Live At series. Numbered edition of 200.

Department of Heraldry
(Open Mouth - OM56) LP $25.50
You are more than welcome to disagree with Julia Cafritz when she says that the Sightings guitarist "has always had this really great guitar sound, only partly courtesy of all those shitty pedals he insists on using," an option which if exercised will earn the holder a swift punch in the throat. "He's not coming at this from a Pharoah Sanders-worshipping, free jazz-loving sensibility. Rather, I hear his home town, Detroit. Department of Heraldry is scuzzy and raw-sounding, punctuated with … utter desolation. Moments build, only to collapse again. There are even funky grooves but, of course, they fall apart. It's fucking great." The first volume in Open Mouth's solo guitar series. Edition of 300

Live from Devil's Den
(Pauf Recordings - PAUF022) CD $7.50
Fantastic and mysterious dead-of-winter in situ group sound survey — also described as field recordings from a cave / theme park in Florida. Having recorded for Kye and Bánh Mì Verlag, the Fribergs and the DiMaggio collaborate with Jeronimo Jimenez of Ñaka Ñaka on a single 49-minute track so diminutive in nature it has to be a performance. "Arrangement of sound with depth," according to Nothing / Shut Down, "A story that seems to have no pulsation but firmly exists."
Private Hate
(Careful Catalog - CARE04) LP $20.00
The first full length LP by this trio that has existed publicly via recordings and performance since 2015 encapsulates the group's pivot toward an emphasis on events, movement, and locations presented as a challenge perception. Sounds happen at the wrong time in unexpected places. Sometimes they go missing and you're left holding the bag. Free music is somewhere murmuring behind the walls but Private Hate is not really about that. Three monkeys in the jungle, a jest on managing expectations. If one hears an object being struck enough times and the resonance of the room, is this at all useful in extracting a narrative? We've all read about cryptophasia. These are just some scenarios to be interpreted. Two-color letterpress jacket with art by Justine Neuberger and postcard insert by Tom Darksmith.

Can We Win
(Regional Bears - RB09) Cassette $7.50 (Out-of-stock)
Shots Bring It In. Due to weather, noise complaints, lack of time, artistic choice, or some combination thereof, Shots' instrumentation moves indoors. Can We Win replaces the characteristic outdoor resonance of previous releases with tighter, more enclosed environment. The sound sources remain varied as ever, but the running water, somnambulistic percussion, and rupturing metal in play are enfolded in an intimate domestic acoustic space, making for a considered and engaging listen. C32