Children Of God / World Of Skin
(Young God) Used 2xCD $10.00
By 1986 Swans had run its course with the physical assault of sound, so Michael Gira pushed the music into unfamiliar territory. Recording in an old isolated medieval sawmill in Cornwall, England, Jarboe's presence came to the fore as a presence. Children Of God was a major turning point for Swans; around the same time, Jarboe and Gira did two records under the name World Of Skin, a large assortment from which is included on the second disc of this 2008 reissue.

My Father Will Guide Me Up A Rope To The Sky
(Young God - YG43X) Used 2xCD $15.00
Epic soul-crushery from 2010 that moves through pastoral terrain onto ever-ascending monotonal grooves. A filmic-folk idyll featuring Devendra Banhart on lead vocal abruptly shifts to cataclysm, and is followed by more airplane-taking-off ascensions, art songs and lethal sonic pummeling. With bonus disc of raw material compiled, mangled, edited, and re-arranged.

Real Love
([ no label ]) Used LP $40.00
Recorded February through April 1986 live in Europe. "Psychic suffering [and] extremely powerful," says J. Eric Smith. " 'A Hanging' ... invokes the pain-maddened damned as [Swans] trudge endlessly through chest-deep gullies of shit, calling for God's forgiveness, recognizing (finally, too late) that no one needs His mercy more than they do." Single hand-numbered copy in stock (#502).

Soundtracks For The Blind
(Young God - YG01) Used 2xCD $10.00
Ten actual songs nestled among the found-soundscapes, ambient decompositions and twisted electronic noises that constitute the album's remaining sixteen fragments. Soundtracks' sheer length (two-and-a-half hours) and immensity are its own best explanation. Second edition in single-width jewelcase.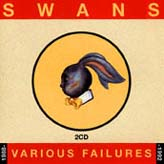 Various Failures
(Young God - YG06) Used 2xCD $5.00
Tracks from 1988 to 1992, ranging from delicate, acoustic ballads with accompanying strings to bombastic Phil Spector-influenced arrangements, to cinematic sound collages with found vocal narrations, all unified by Swans essential intensity of feeling. This double-CD collects the best of the material released previously on their Love Will Tear Us Apart 12-inch (Caroline 1988), The Burning World album and its various singles (UNI 1989), the World of Skin album 10 Songs For Another World (Young God 1990), White Light From The Mouth of Infinity (Young God 1990/91), and the Love of Life album and its various singles (Young God 1992). Includes "Love Will Tear Us Apart (Jarboe Version)" and "New Mind (Acoustic Version)," both removed from later editions. Some discoloration on the front cover.