Discaholics! Record Collector Confessions Volume 1
(Marhaug Forlag) Magazine + 7-inch $37.50
Ten interviews conducted by the Swedish saxophone player / improviser / composer / music archivist with artists / record collectors Brian Morton, Byron Coley, Dennis Lyxzén, Elena Wolay, Harald Hult, Henry Rollins, Oren Ambarchi, Paal Nilssen-Love, Thurston Moore and Robert Crumb. 120 pages. One-sided seven-inch has an exclusive new track recorded using elements from Gustafsson's record collection. Second edition.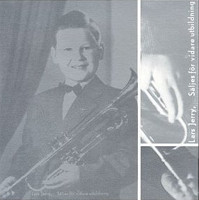 Education Of Lars Jerry
(Xeric) Used LP $12.00
"Bellowing horn gusts and devilishly intricate microhorn chatter within the space of a single phrase," notes S. Duda, "allow a tsunami of sound to be answered by a volley of rapid-fire chirps, squeaks, and clucks…, [giving this 1999] LP the illusion of dialogue — as if there are two mad horn players in the room rather than one. And in Gustafsson's hands, the give and take of his internal conversation is both convincing and intriguing…. [He sketches] a wildly diverse landscape of mood and emotion, from scalding, angry blasts to jolting surprises, to hilarious slapstick."

MATS GUSTAFSSON / LASSE MARHAUG
For Ake Hodell
(Quasi Pop - QPOPREC01) split 7-inch $9.00 (Out-of-stock)
Marhaug's "So-so Green Tea With Buddha" deals with musique concrete and noisy cut-ups techniques, Gustafsson's "Jag Vill Lyda Order" with his extended sax and electronics in harsh, bulldozer style.

Solos For Contrabass Saxophone
(Table Of The Elements) Used LP $35.00
The first recordings of the Swedish saxophonist on the enormous and altogether imposing contrabass. Emphasis on the bass. Pressed in 2003 on clear vinyl, silk-screened on the reverse side with glow-in-the-dark ink, and packaged in clear vinyl jacket.