Alien Bog / Beautiful Soop
(Pogus) Used CD $18.00
Two long tracks of emotionally stunning electronic music from the 1960s, "revolutionary … in [its] use of tape delay and heterodyne techniques, coupled with experimental use of combination tones and supersonic frequencies, presaged techniques now being explored digitally." The brain-eclipsing "Alien Bog" is a masterpiece of electronic tone squelch. Only an excerpt of this had been previously issued, while "Beautiful Soop" is released here for the first time. During her first year at The Tape Music Center at Mills College in Oakland, Oliveros utilized the original Buchla Box 100 series and her tape delay system. From 1997

DAVID GAMPER / PAULINE OLIVEROS
At The Ijsbreker Jan 24 1999
(JDK) Used CD $6.00
"The EIS is greatly in evidence on this … improvised live recording …[which recreates] the sounds of Oliveros's accordion and Gamper's piano and in a virtual acoustic space, distorting them as if … in a hall of mirrors. The lengthy 'Breaking the EIS' showcases a divergent sound menagerie: plaintive electronic yowls, scatterbrained pitter-patter, ghostly wavering and wailing. It's mostly downcast and alien, but impressively grotesque. 'Pauline's Solo' is more serene, but there's a rippled depth to be heard in the laminated accordion drone, which recalls Penderecki's chilly tautness. Whenever it seems [to be] subsiding into mere atmospherics, piercing flurries of shrapnel erupt and disrupt expectations. The two instruments work best together on 'EIS Cream', which sounds like … subterranean … cyborgs … mak[ing] a Windham Hill record, and where the flickering piano blends well with the dilated accordion tones."

STUART DEMPSTER / PAULINE OLIVEROS / PANAIOTIS
Deep Listening
(New Albion) Used CD $42.00
"Recorded in a massive underground cistern in Washington State with a 45-second reverberation time, the recordings are defined by a surreal smearing of [the] tones [of accordion, voice, conch shell, metal pieces, trombone, didjeridu, garden hose, whistling, and metal pipes]. Like much of Oliveros's and Dempster's work around this time, most of these improvisations … focus [on] extended drones, with Dempster's trombone and didjeridu providing the backbone. Far from evoking any sort of stasis, these tones swell and resonate actively throughout the space, and the effect is hallucinatory. Melodic lines intertwine as they ripple and decay, and momentarily raised voices seemingly emerge from within the insistent, omnipresent root…. In a contemporary context, Deep Listening still sounds revolutionary. While drone, minimalism, and ambient music have proliferated in the intervening decades, few albums in those fields are as rich texturally and harmonically or have such clarity of vision. The album remains vital largely because it embodies Oliveros's ideas, which have themselves resurfaced as a corrective to the sinister undercurrents of social and technological advancement." From 1989. Manufactured at Disque Americ.

Electronic Works 1965-1966
(Paradigm Discs) Used CD $12.00
Three live experiments, which at the simplest level use either an array of oscillators and filters, or a mixer and one spool of tape feeding a series of (variously set up) stereo tape machines. Long delay lines, pile ups of noise and rich sonorities are the stuff of this music. "1 Of IV" and "Big Mother Is Watching You" from University of Toronto Electronic Music Studio, 1966 (the former previously released in 1967 on Odyssey, the latter previously unreleased piece, along with one more from San Francisco Tape Music Center 1965, first released in 1977 on the 1750 Arch Records' New Music For Electronic And Recorded Media.

Four Electronic Pieces 1959-1966
(Sub Rosa) Used CD $25.00
Early and definitive contributions to tape and electronic music finely displayed here — Oliveros's systematic exploration of electronic sounds, which was fundamental to this period. If 'Mnemonics' prefigures her meditative and breathing pieces, 'V of IV' structures sound as noise, 'Time Perspectives' is her first variations on silence, an ambitious four-channel work made by recording small sounds from objects resonated on a wooden wall, changing the tape speed, using cardboard tubes as filters by inserting the mic into them and a bathtub as a reverberation chamber, while 'Once Again' develops a wild energy that out-strips itself.

Minexcio Connection: Live at the Rosedale Cafe
(Roaratorio) LP $12.00 (Out-of-stock)
The results of one of the most unexpected yet fruitful partnerships in recent years, a live collaboration between electronic music pioneer and sage of the environmental-drone Pauline Oliveros and indefinable Argentinean experimenters Reynols. Recorded in August 2000 during Reynols' first trek through North America, the record features a version of "Six For New Time" (originally composed for Sonic Youth's Goodbye 20th Century album), along with idiosyncratic throat-singing and hypnotic dream/dronescapes.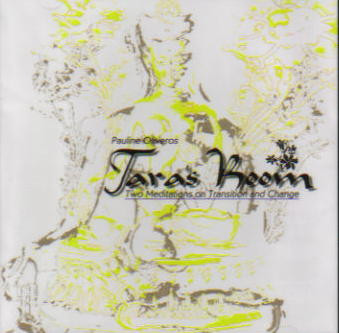 Tara's Room — Two Meditations on Transition and Change
(Deep Listening) Used CD $10.00
Two tracks previously released on cassette in 1987: "The Beauty of Sorrow" (small accordion tuned in just intonation, Lexicon delay processors) and the title track, a multi-track recording with all materials played and sung by the composer. 2004 reissue.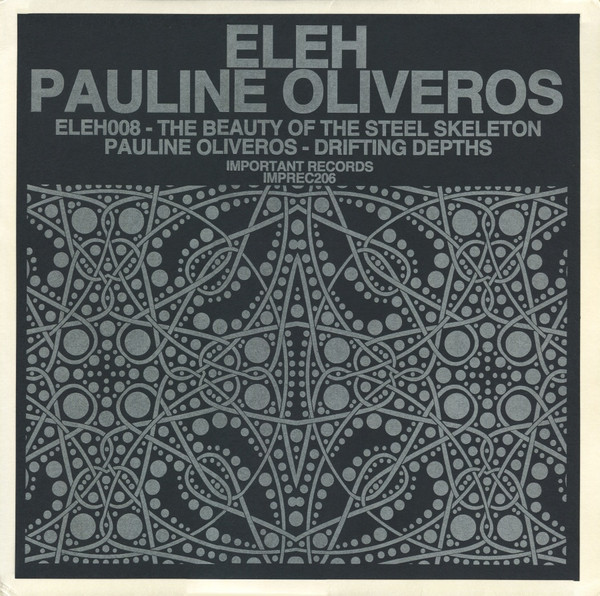 The Beauty Of The Steel Skeleton / Drifting Depths
(Important) Used LP $25.00
An improvised piece made on a harmonica being processed through Oliveros's Expanded Instrument System, backed with a super slow melodic drone full of stillness, tension, and relief. 200g vinyl. Letterpressed paste-on jacket. # 668/760

PAULINE OLIVEROS / JESSE STEWART
The Dunrobin Session
(Nuun - NUUN008) CD $16.00
V-accordion and percussion duets recorded during Oliveros's residency at Carleton University in Ottawa, Canada, in collaboration with percussionist and composition teacher Stewart. Part of the label's Pulsions Series. Liner notes by Gayle Young.

To Valerie Solanas And Marilyn Monroe In Recognition Of Their Desperation
(Roaratorio - ROAR21) LP $15.00 (Out-of-stock)
Intrigued by the egalitarian feminism set forth in Valerie Solanas's 1968 SCUM Manifesto, and needing to express her own resonance with the energy of the surfacing women's movement, Oliveros incorporated the principles in the structure of a new piece she was composing at the time. Monroe had taken her own life and Solanas had attempted to take Andy Warhol's. Both women seemed desperate, caught in the traps of inequality: Monroe needed to be recognized for her talent as an actress and Solanas wished to be supported for her own creative work. Commissioned by the Music Department of Hope College, Holland Michigan, To Valerie Solanas and Marilyn Monroe in Recognition of Their Desperation had its premiere in 1970. Though everyone knew Marilyn Monroe, hardly anyone recognized Valerie Solanas at the time or took her Manifesto seriously. Oliveros brought the names of these two women together to draw attention to their inequality. Roaratorio's LP -- the first commercially available release of this eerie, beautiful, and important Oliveros work -- contains the 1970 Hope College premiere, performed by a 14-piece ensemble, and a 1977 recording from Wesleyan University, performed by a 43-piece orchestra. Cover artwork by Judith Lindbloom. Download coupon included.