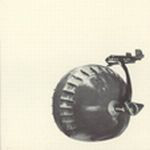 Mansdoof
(Absurd) Used CDR $3.00
Hums and vibrations cohere into a riddle of electrical static and occasional sudden movement," notes E/I about this 2003 release by Martijn Tellinga. "The impression is of marshaled electro-acoustic improvisation…. [H]igh pitches and scuffles…, field recordings … the edited bounce of a table tennis ball…, sticky tape, disquieting vocal sounds…, traffic noise recorded in Morocco…. [A]n attractive balance between the lived, the meditative and the electronic." Edition of 131

FRANS DE WAARD / HOWARD STELZER
Torn Tongue
(Absurd) Used CD $10.00
The recorded voice of Kelly Sams manipulated by computer and effects in a dense six-track collage. Packaged in a 6.75-inch round, three-panel cardboard cover. Edition of 160

45 Minutes From Underneath The Beds
(Absurd - A6) CD $12.00
Scandinavian performance/composition iconoclast's speech impedimentia heralds his highly idiosyncratic noise bordering on personal field recordings.

Gruntle
(Absurd) Used CD $5.00
Al Margolis's mid-aughts sounds and loops and musique concrète. Beyond ambient, before noise, in a gray area with more hints to modern classical music than one might guess. In over-sized, circular sleeve.
Stylt
(Absurd) Used CDR $3.00
Fusing together guitar pickup and turntable in a roar of feedback howl and rumble from 2004, this Portuguese improviser couples the idea of Cartridge Music with the anti-music bombardment of Metal Machine Music. Edition of 99

M.S. Stubnitz – Stockholm 9.07.1998
(Absurd - #46) Used CD $5.00
Geert Feytons (Noise-Maker's Fifes) and Michael Prime (Morphogenesis) solemnize noise, using self-built instrumentation and an ever-changing mass of electronics and effects to raise dada cathedrals of immensurable mystery, shifting around grinding noises and menacing echoes from sinister rooms, only to deform reality through visuals that our brain accepts not without difficulty, due to the inherent dissonant power of these polymorphic bastard symphonies. Don't even think to use these stirring emissions as a background: they will sneer for your attention, destroying your concentration on anything else.

Inweglos
(Absurd) CD $12.00 (Out-of-stock)
A perfectly timed reissue of this 1980 LP by Ralf Wehowsky (RLW, P16.D4), Jochen Pense, Joachim Stender, and Achim Szepanski. Synthesizers, rhythm boxes, the group's monotone delivery, and a dark Berlin vibe that's creepier than running into Lydia Lunch and Rowland S. Howard at a key-swapping party, all contribute to Inweglos's position as a one of the key Neue Deutsche Welle links between dejected No Wave disco and a Quaalude-damaged Kraftwerk. With non-LP bonus tracks. Imported from Greece.

Work Hard Play Harder
(Absurd) Used CDR $7.00
Peter Rehberg & Zbigniew Karkowski at Electrograph 02 at the Byzantine and Christian Museum of Athens in 2002. Edition of 199

Live From The Canteens Of Atlantis
(Absurd) CD $15.00
Part performance art, part live music installation, Live From The Canteens Of Atlantis was created by Colin Fletcher, Tim Kirby and Peter Strickland using contact mics, samplers and signal processing to document themselves cooking. Predominantly percussive mixes with loops, grinds, and clanks should satisfy industrial technoids; plenty of splatches, cutlery jiggles, rumbling climaxes, and big ol' sizzles will please the noise-heads; and conceptualists, well, those beard-strokers will buy anything, so you know they're on board. Disc one contains selections from 1998 to 2001, disc two the group's complete final appearance in Switzerland. Imported from Greece.
NIKOS VELIOTIS / DAN WARBURTON
VW
(Absurd) Used CD $6.00
Cello and violin improvisations recorded live in 2001, reworked into two long electroacoustic pieces, with clicks, pulses, drones, sound manipulations, and samples. In over-sized, circular sleeve. Edition of 150