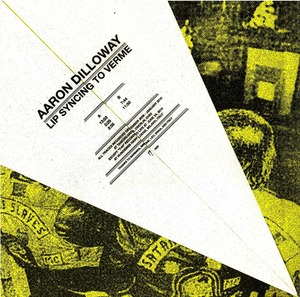 Lip Syncing to Verme
(Hundebiss - H009) LP $27.00
Aaron Dilloway here is as fluid and cinematic as a slow motion Stan Brakhage on K. After the monumental Chain Shot LP (Throne Heap 2007 / Hanson 2009) and furious live activity, The Mad Taper of Oberlin dives into a buzzy ocean of muddy water loops south of heaven, where you might as well crawl like the creepy worm you are. Unique folded artwork. Edition of 500.
Mil Pluton
(Hundebiss - HO17) Used LP $19.00
Laurent Gérard has evolved beyond conventional language and now works with an Esperanto-like form of alien linguistics in front of a sonic mass of EBM-esque rhythms, musique concrète-style editing, hypnotic spirals, dense layers of swampy electronics. 150g vinyl.

Stress Test
(Hundebiss - H013) LP $20.00
(Hundebiss - H013) Used LP $13.00
Los Angeles-based and performance-oriented, Jaws employs slithering electronics, confessional narrative, and impromptu stratagems that brim the optics, confuse the mind and engage the body. Stress Test is the overheated, heaving combination of high-ratchet club dynamics, materially constrained tempos, the island/cosmos hive mind, time-sided protest music and the endless highway thrust imbued in all of us. Numbered edition of 300.

Sikknastafari Slash Crasstafari
(Hundebiss - H012) Used LP $13.50
Hello, good evening and welcome. Your host for tonight's show, less a performance than a bloodletting ritual, will be Griffin Pyn -- the demonic spirit, the martyred victim, and the shaman who heals and exorcises us all through his sonic sacrifice. Are you ready to test the limits of our own mortality and immortality simultaneously? Are you ready for a spontaneous group-trance ceremony? Let's see some sweaty limbs, heads, and feet! Let's see some stomping, swaying, punching, and pulsing! Join the singularly-thinking-entity driven by infectiously minimal bass beats, seemingly ground to a pulp by the teeth of some odious beast! We're gonna do this thing, right now. You coming or staying? Numbered edition of 300.