Beatings With Gimpy Flighted Wings Entrapped By Post-Fence Of Garish-Land
(Menlo Park - MPK7017) LP $25.00
Chris Cooper's 1999 album of prepared guitar abuse. Back cover has individual prints and stamps. Solve the anagram and get a ten percent discount. What the hell, let's make it twenty.

LOREN MAZZACANE CONNORS / KEIJI HAINO
Vol. 2
(Menlo Park) LP $50.00
As the saying goes, "The sorrow flowing red flutters and it flies and it aims to overflow and aims at the sky to emerge. It is led toward the shining light and dazzle of light, the wailing black fills the red of sorrow and the red of sorrow pushes the lament of black. Each other's passion counteracts each other's color, and it is being purified to a transparent single tone like air like water. Examining that feeling, it is only a sad song — to the listener; it is the final tonic that tramples the last blow; it is clean water to wash away abominable creaks and obsession."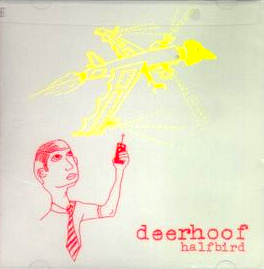 Halfbird
(Menlo Park) CD $7.00
The fourth full-length album from San Francisco masters of "quiet-loud" experimental rock cacophony. A fifteen-track juxtaposition of extremes and hybrids that push the limits of beauty and power, as the band moves from thermonuclear sound assault to moments of calm. Spectacular drumming, flesh-hacking guitar, roaring bass, and nerve-tingling female vocals.

Apple O'
(Menlo Park) Used LP $40.00
"Vivid bursts of musical and lyrical inspiration with conceptual structure. Freewheeling, spontaneous style — quirky — seeps into even the quieter tracks. The best moments mix the pretty with the powerful and unpredictable: 'Sealed With a Kiss' combines a singsong melody with elephantine basslines, fizzy guitars, a brass band, and what sounds like a chicken clucking. Making chaos sound cuddly and even kind of beautiful, Apple O' brings order to Deerhoof's spontaneity, offering plenty of sweetness without forgetting their bite." First pressing from 2003. Sealed

$50,000
(Menlo Park) Used LP $15.00
"This Baltimore-based junk-rock duo harnessed the spirit of no-wave in 1997," notes Yellow Red Green, "years before the resurgence, in their own particular fashion: tuneless percussion, wild fumbling, squelched guitars, thrift-store guitar, shaken cans of beans, children's electronic toys, some high-pitched babbling. Truly a fine freakout." Paste-on cover with collage elements, Magik Marker, glue, and glitter.

Duotron Vs. Tom Smith
(Menlo Park) Used LP $5.00 (Out-of-stock)
Dub-inflected cri de coeur from 1997.

The Wigmaker In Eighteenth-Century Williamsburg
(Menlo Park - MPK7020) Used 2xCD $15.00 (Out-of-stock)
To Live And Shave In L.A.'s magnum opus, seven years in the making. "The only record I've ever heard that sounds like it was worked on continuously for seven years," raves Chris Sienko, "The mix is dense, yet completely lucid … [with] at least four layers of different kinds of manipulations (tape edits, digital processing, computer manipulation, multitrack gymnastics)…. Layers shift in and out of focus, dissolve to static, intentionally overload, desaturate, flip to negative and snap back into shape with nary a tear in the fabric…. It's like listening to a cubist mixtape of glam, death metal and no wave, with each and every facet remorselessly visible … a wake-up call to the avant community…. [T]he studio techs are going to be talking about (and maybe even studying in school) the mix on this album in twenty years – I have no doubt about that…. [T]he bar has been raised significantly."