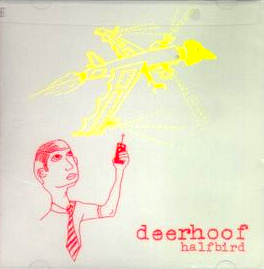 Halfbird
(Menlo Park) CD $7.00
The fourth full-length album from San Francisco masters of "quiet-loud" experimental rock cacophony. A fifteen-track juxtaposition of extremes and hybrids that push the limits of beauty and power, as the band moves from thermonuclear sound assault to moments of calm. Spectacular drumming, flesh-hacking guitar, roaring bass, and nerve-tingling female vocals.

Live "Koalamagic"
(Dual Plover) Used CD $5.00
No-pop stunners recorded between 1996 and 2000.

The Runners Four
(Children Of Hoof) Used LP $50.00
Recorded live in their Oakland rehearsal space without any post-production, The Runners Four captures the unbridled intensity and utter joy of Deerhoof live while continuing to map out the territories of their own distinct brand of pop songcraft. Sealed