Asylum Lunaticum
(Intransitive - INT033) Used CD $5.00
Intimate, absurd, feral and aggressive in its homemade weirdness, the music of Kommissar Hjuler & Mama Bär is deceptively simple -- typically created using their voices, a cassette-tape recorder and a microphone. Their astonishing suburban dramas are both charming and psychotic, sometimes at the same time. The husband-and-wife duo have self-published their dada-esque sound poetry experiments on small-edition lathe-cut LPs, tapes, and CDRs for years, usually adorning them with elaborate junk sculptures and paintings. Recommended if you'd rather spend the big bucks on food and rent and you're into Henri Chopin, Raymond Dijkstra, Ultra Eczema, Paul McCarthy, Runzelstirn & Gurgelstock, Mike Kelley, LAFMS, Dylan Nyoukis, Aaron Dilloway.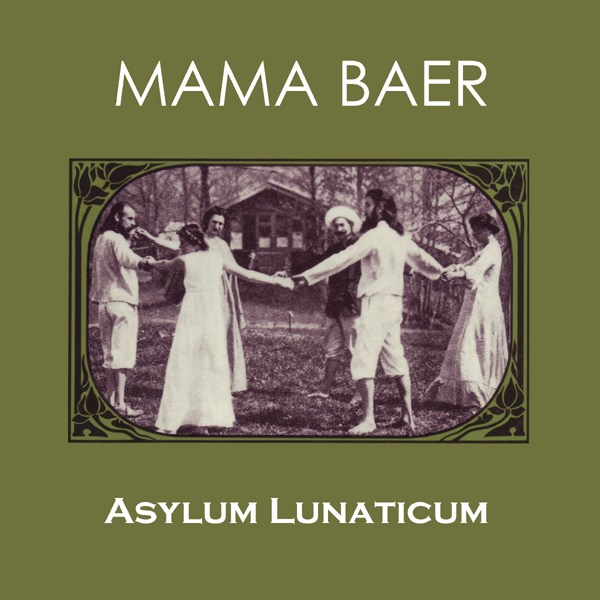 Asylum Lunaticum
(Nihilist - NIHIL69) LP $19.00
Masterfully unsettling, preposterous in its devotion to pleasure, the eroded clawing of bleeding fingertips complementary to the delicate and agonizing moans that cascade through rubber halls of some forgotten insane asylum, as recorded by a sick warden with enough time on her hands to engage in manipulation of the macabre document, just to enhance the creepiness and perversion. The CD of the same name on Intransitive, though no less recommendable, is a compilation; Nihilist's LP is the full, uncut, un-edited version. Edition of 250.

Bildnerei die Geisteskranken vol.1 - es ist so
(Shamanic Trance - ST1) LP $15.00
Schizophrenic sound poetry battle bearing the hallmarks of The New Finesse (guitar, assorted objects). White vinyl. Edition of 300.

Bildnerei die Geisteskranken vol.2 - Ruhe
(Shamanic Trance - ST2) LP $15.00
Glorious journey from whisper to testicle excision. Nauseating, repetitive. White vinyl. Edition of 300.

BLOOD STEREO / KOMMISSAR HJULER / MAMA BÄR
Blutige Polize
(Chocolate Monk - CHOC213) CDR $7.50 (Out-of-stock)
This three-way split for audio vérité aficionados. Hjuler's down the pub with his mates, laughing, singing, listening to old Anal Probe comps. Baer plugs in her guitar and hollers long-ass hymns to hysteria. A bit of me-time and all is rosy. Blood Stereo unfolds the first part of their digestive tract concept triptych with the sounds of Nyoukis's bowels rumbling, moving along with stalker-friendly imported bird-calls, concluding with a post-prandial take on the opener.

Exorcismes From All My Fingers
(Inyrdisk - IYD59) 2xLP $27.00
The Mama Bär double-album of the century — a ritualistic culmination of The Freak of Flensburg's dark, disturbing, and emotional soul awakenings. Eight epic exorcisms and alien dream soundtracks spread over four sides. Eighty-three minutes, one unholy opus of hypnotic female emancipation. Edition of 250

SILVIA KASTEL / KOMMISSAR HJULER / MAMA BÄR / NINNI MORGIA
Live In Edinburgh
(Ricerca Sonora - RS4) LP $27.00 (Out-of-stock)
The two-part "Jericho" uses a backing tape group-prerecorded in a big theater-like room, a version of the lyrics spoken live onstage, and Mama Bär's video projections of the four standing against a wall. Hjuler manipulates tape, Mama Bär and Kastel sing the lyrics, Morgia bends, buffs and brushes guitar, and Kastel's synthesizer growls from within the monster's belly. Tension, discomfort, love, pain, theater, music, art -- four people immolating themselves for the cause. Silkscreened sleeve. Edition of 200

Mensen Die "Kort Staan" Voor De Zelfdoding
(Ultra Eczema) Used LP $12.00
Three long tracks: a hysterical cover version of Suicide's "Frankie Teardrop," a piece about the Bronx (with guest vocals of a crying child), and a side-long screaming argument between a Granddad and a kid — so painfully loud and "German." Edition of 300 in 12pp poster cover

SILVIA KASTEL / KOMMISSAR HJULER / MAMA BÄR / NINNI MORGIA
Two Couples
(Ultramarine - UM008) LP $25.00
A fusion of musique concrete, avant-garde, tropical psychedelia, moaning, screaming, free jazz and lots of raw synths recorded by German NO!artists / performers in collaboration with Italian musicians Ninni Morgia (guitar) and Silvia Kastel (synth and voice). Kommissar Hjuler and Mama Baer are known for their provocative and extreme neo-dada. Ninni Morgia moves in NYC's improv and free jazz circles, has been heard in psychedelic rock outfit La Otracina, and started the noise rock band White Tornado. Silvia Kastel has studied sound engineering, electronic music, and singing (with Lee Torchia and Joan La Barbara). All four killed it on a UK tour, where they played and recorded at historical sound poetry venue The Morden Tower in Newcastle. Edition of 300. "Tropical... screaming... sounds good. I totally need an eleventh record from these nuts." --Darksmith. TEDIUM HOUSE BEST OF 2011

Voice Studies 03
(My Dance The Skull - VS03) Cassette $9.50
"The tape starts out in ultra-minimal fashion," summarizes our astute comrades at Volcanic Tongue, "With Mama singing on the very edge of hearing before she bursts into a concerted almost Junko-esque series of shrieks and body convulsions and Kommissar enters with a cracked nursery rhyme theme that he repeats to the point of insanity while reducing Mama's accompaniment to virtual hysteria." C40