Custic Witch Conflictory And In The Pols
(Chocolate Monk - choc.471) CDR $6.00
Take a moment to force yourself to forget that this junk-fi epic by Dora Doll, Mykl Veet, and Dylan Nyoukis was created during a time when, and on a globe where, air, food, and water weren't classified as luxury poisons and it was easy to win an argument about whether fascism was bad or not. It's not gonna hurt anyone to wonder at the gurgle of a cassette tape trying to move forward underneath the weight of someone sitting on the deck, at the flat-topped frequency range, at distortion eclipsed by its ever-present understudy overmodulation, at fist-filled mouths mimicking the slow death of a water-logged shack by the railroad tracks where teenagers huff glue. But these are 25-year-old recordings, no escaping that, and this recently unearthed, unreleased snail-mail collaboration made in 1996 snorfles on the very edges of the shadow cast by the influence of charred psychedelic hypermetropia. Crud fidelity bedroom recordings made straight to cassette. The Blackburn-Whangarei Freundschaft. Oh, the beauty and the damage. Obsolete tools like guitars and piano writhe and grind inside tubes of acidic digestion, decimated on arrival, congenitally defective, esprit-deprived. Very few existential howls from the abyss, plenty of shattered squeals from a mic too close to an amp in the carport. Jacked flutter vistas. Muffled turntable surrender. Wires that shouldn't be touching. A big ol' blur of electronic mud-scrape. No one forgets their first. Edition of 75

Electricity Vs. Insects
(Chocolate Monk) Used Split 7-inch $8.00
After abandoning Moore's suggested title Sunday Sport for this collaboration and opting instead for the more titillating, Vollmann-derived moniker, Nyoukis leads the trio through a score based on a simple grid-and-dice scam requiring Moore to record a randomly selected album from his collection for a set amount of time, to which more sherry-fueled voodoo would be applied upon arrival in the UK. On the flip-side, a more smoked-out octagonal score is used to replace as much content created by Prick Decay and Moore with sounds boosted from Glands Of External Secretion. Everyone involved agrees the record is a colossal pain-in-the-ass.
Guidelines for Basement Non Fidel / Mic Gravy For Freek
(Starlight Furniture Company) 2xCDR $14.00 (Out-of-stock)
Their 1995 album plus remixes and demixes by David Cross, Stewart Walden, Scott Colburn, Vote Robot, Jod Russell, Glands of External Secretion, Jeph Jerman, Jeff Fucillo, Landers Duo, Kenui Ullin, June Powers, Clinton Williams, Karen Lollypop, Neil Campbell, Matt Anderson, Mykl Veet, and Thurston Moore.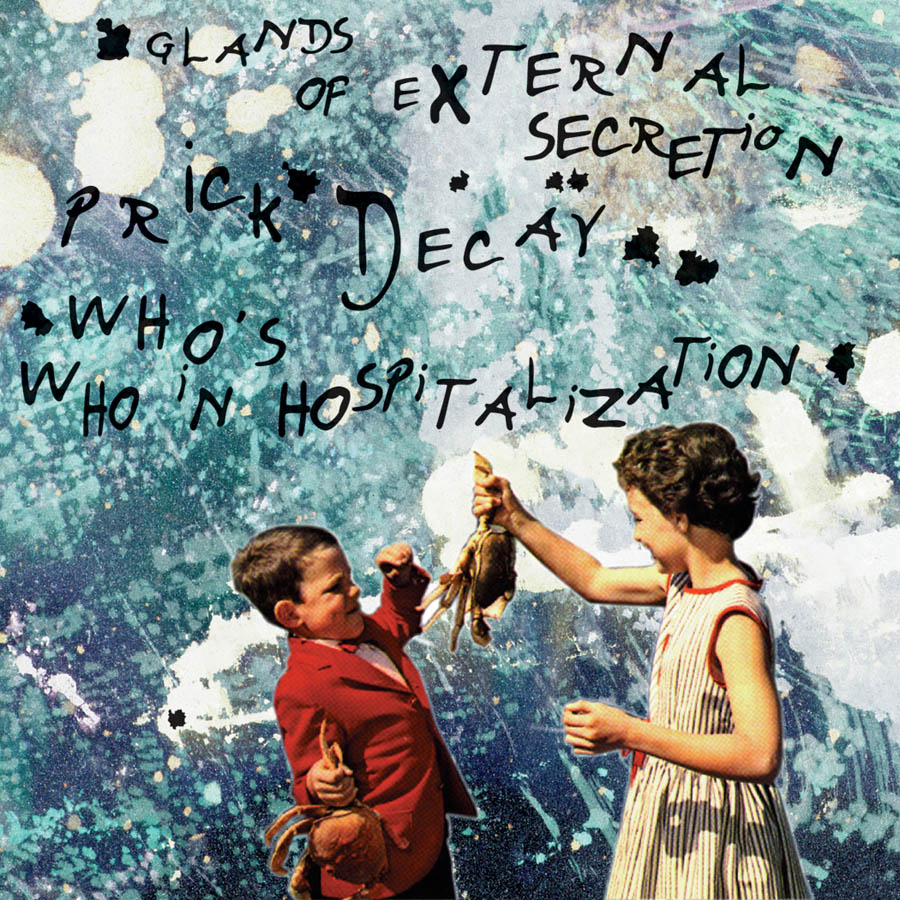 GLANDS OF EXTERNAL SECRETION / PRICK DECAY
Who's Who In Hospitalization
(Starlight Furniture Company) CD $6.00
Together in one noisological bed (so to speak), Barbara Manning, S. Glass, and Dylan and Lisa Nyoukis donate an hour of full-on collapsing noise and tape loops of junk. Sweet, sweet bounty. With Doug Pierson on electronics. Produced by Tom Smith.